Discover Madrid
The best starting point
Hotel Mayorazgo is very close to the most emblematic places in Madrid. It's so close that you can get to most of them on foot. Culture, leisure, shopping and restaurants. It's all within your reach.
The city at your fingertips.
If you aren't sure what to see in Madrid, where to shop or which exhibitions to visit, we'll help you decide. Ask us and we'll tell you all about what's happening in Madrid. We'll become your best travel guide to make sure you don't miss a thing and enjoy your time in the capital to the fullest.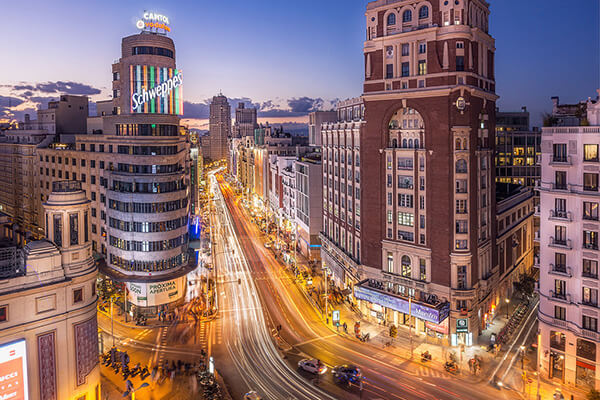 Gran Vía
We are located right on Gran Vía, one of Madrid's main avenues. This long street has it all: shopping centres, shops, restaurants, theatres, cinemas and clubs. A special mention must go to the musicals, which have been increasingly popular in the last few years.
Walk around the Gran Vía and enjoy its architecture and Madrid's hospitality. From Calle Alcalá to Plaza de España you will find an endless list of things to do, which will give you an unforgettable feeling once you have returned to the hotel.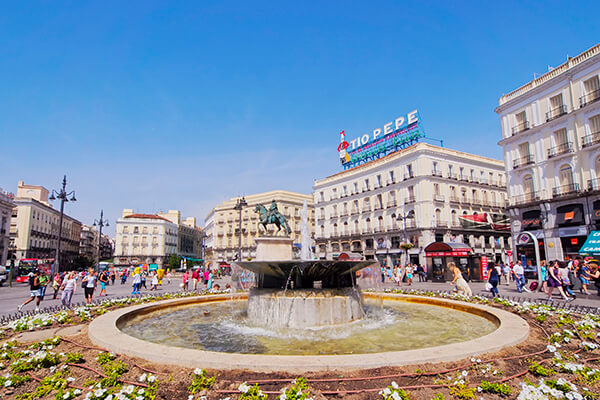 Puerta del Sol
Puerta del Sol is 10 minutes from Hotel Mayorazgo, Madrid's central point and heart of the city. It is a commercial area par excellence, with streets like Arenal, Montera, Carmen or Preciados, the location is ideal for a perfect day. A photo next to the Bear and the Arbutus (Oso y el Madroño) is a must.
There are also many street artists performing in the area every day. You can walk among human statues, jugglers or listen to live mini concerts.
And if you have to meet someone, the place to do it is Kilometro 0. You can't miss it on Puerta del Sol and while you wait you can enjoy the architecture of Casa de Correos and its clock tower, where locals celebrate their New Year's Eve, one of Madrid's main icons.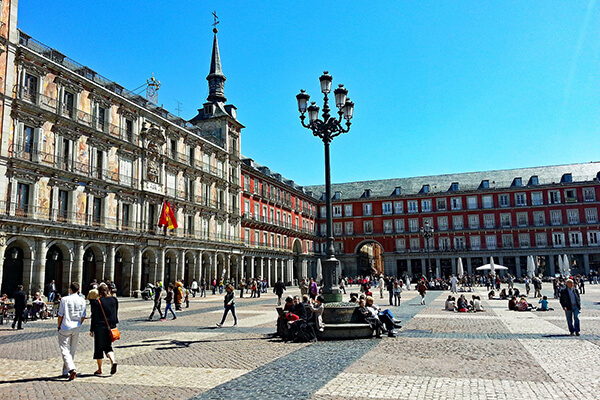 Plaza Mayor
You also can't leave without visiting Plaza Mayor. There, you can enjoy an authentic bocadillo de calamares, a deep-fried squid sandwich. It is best accompanied by a nice cold beer and, if it's a local beer, all the better.
Eating a sandwich is an excellent option because it allows you to visit places while you eat. However, if you want to relax and take it easy, Plaza Mayor hides traditional restaurants, terraces and souvenir shops underneath its porches. Furthermore, if you come in December, make sure you visit the Christmas markets that is set up in the middle of the square.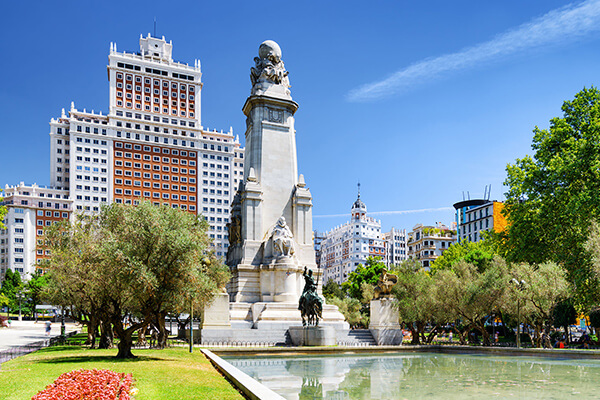 Plaza de España
Surrounded by gardens and tall buildings, the main landmark in this square is undoubtedly the statue of Miguel de Cervantes, which stands tall in the middle. Flanked by Don Quijote and Sancho Panza, it is one of Madrid's most emblematic artistic creations.
Close to Plaza de España are a few other famous landmarks of the city: the Temple of Debod, the Palace of Liria, the Cerralbo Museum and the area of Conde Duque, which was born as a place for cultural exchange that has ended up conquering the whole district thanks to its excellent activities and exhibitions.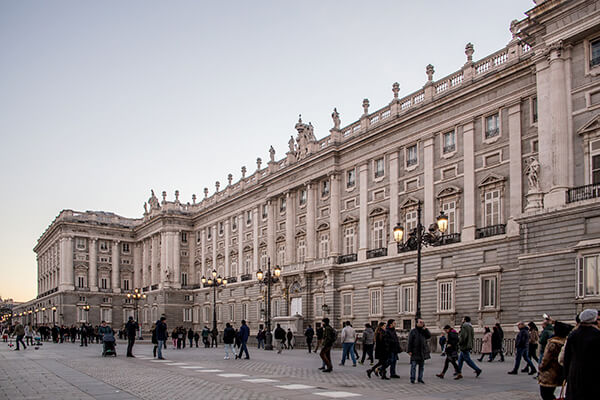 Palacio Real
Another of Madrid's gems is the Palacio Real, one of the biggest palaces in Europe with 3,418 rooms, an important artistic legacy with historical collections of tapestry, paintings and sculptures.
The stunning Sabatini Gardens or Campo del Moro are two other tourist attractions that will make you feel like you went back in time.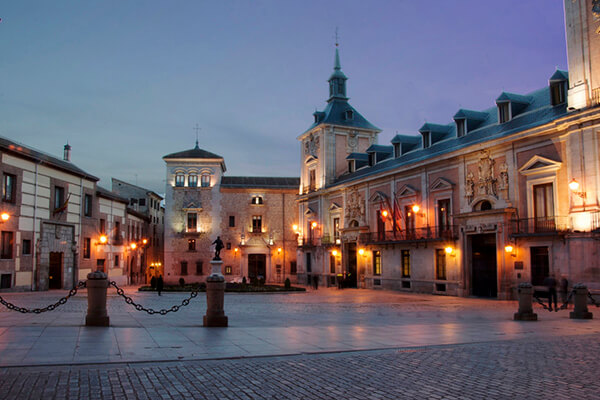 Habsburg Madrid
Thanks to the Habsburg dynasty, Madrid began to enjoy a status that has lasted until today. Once the Court was established in Madrid, the city became the country's most important city.
To visit Habsburg Madrid, known as Madrid de los Austrias, whose monuments are located on a route that goes from Sol to Plaza de Oriente, you must start at Puerta del Sol and follow the route to Plaza Mayor. There, you can get to Bailén by going on Calle Mayor. The Almudena Cathedral, Plaza de Oriente, Palacio Real and the district of La Latina are just some of the spots that make up Habsburg Madrid, to which you can add the Monastery of Descalzas Reales, the Convent of La Encarnación or the Church of San Ginés.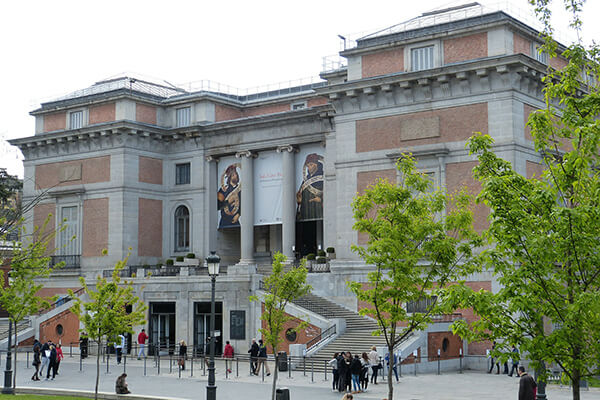 Prado Museum:
The collection of the Prado Museum is made up by 7,600 paintings, 1,000 sculptures, 4,800 prints and 8,200 sketches, as well as a large number of decorative art objects and historical documents. Today, visitors can enjoy an exhibition made up of more than 1,300 works.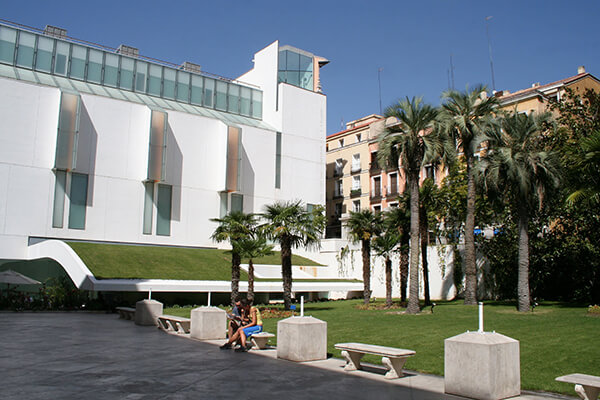 Thyssen-Bornemisza Museum:
This museum gives you the chance to see works of art from the 13th century until the 20th century. With almost 1,000 exhibited works, visitors can discover the main art periods and schools of Western art, such as the Renaissance, Manierism, Baroque, Rococo, Romanticism and 19th and 20th-century art all the way to Pop Art. The museum's facilities also hold an important North American painting collection from the 19th century.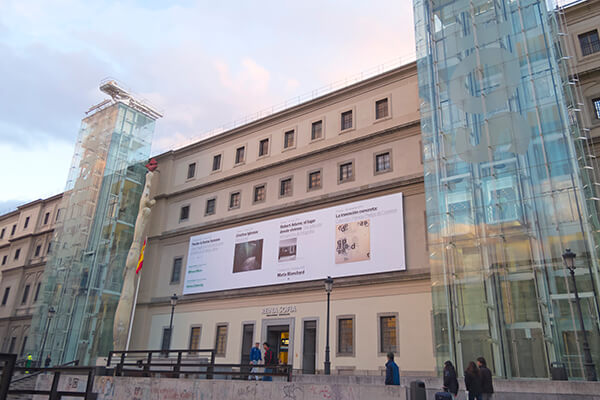 Reina Sofía Museum:
More than 20,000 works of contemporary art of the 19th and 20th centuries make up this museum's collection. Among them, you can find works by artists such as Picasso, Miró, Dalí, Juan Gris, Delaunay, Braque, Yves Klein, Motherwell, Bacon, Richard Serra, Calder, Magritte, Gerard Richter, Muntadas, Pistoletto, Sol Lewitt and Marcel Broodthaers.